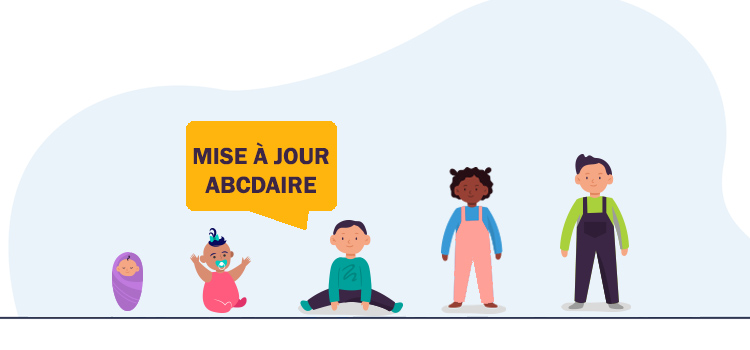 The CHU Sainte-Justine's educational services directorate has updated its tools for the 0-5-year-old ABCdaire program twice in 2020. The tools offered in Omnimed have been updated to reflect December 2020's changes. It took over 75 hours to apply the update into our granular tools.
If you had previously configured these tools in your favorites, you'll have to do it over.
Recommendations of the "Guide des bonnes pratiques en prévention clinique" from the National Director of Public Health of Quebec (November 2019)
The ABCdaire program team has added the "Guide des bonnes pratiques en prévention clinique" recommendations into its tools. We have been highlighted these recommendations with an asterisk (*). in our clinical tools. These recommendations cover six areas:
newborn blood and urine screening,
breastfeeding,
prevention of cavities,
prevention and management of childhood obesity,
protection against ultraviolet radiation, and
immunization.
We have also integrated many hyperlinks into the tools like the recommendations regarding potential health problems associated with identified risk factors and useful documents for parents so that you can refer to them more easily.
Over the next few weeks, our team will assess, with the program's team at the CHU Ste-Justine's hospital, the possibility of pushing further the integration of these tools. We hope, thanks to this collaboration, to optimize the format of the tools and coordinate more efficiently the updates of the tools.