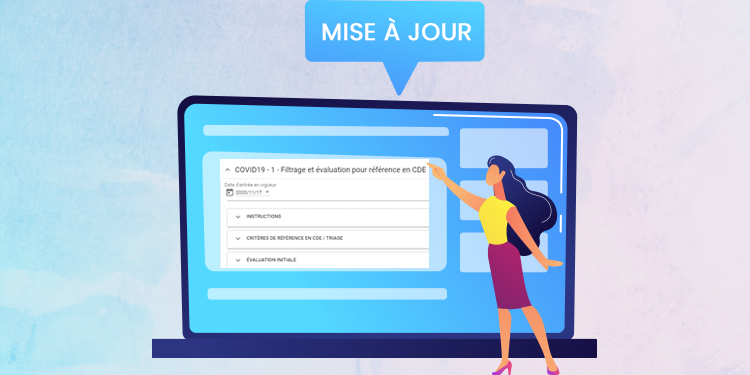 With the second wave of the pandemic, which is very present, we wanted to improve and update the COVID-19 tools so that they correspond to the new recommendations and criteria issued by the ministère de la Santé et des Services sociaux (MSSS) as well as public health.
Here is a summary of the adjustments that have been made:
The tool formerly known as Triage is now called Filtrage et évaluation pour référence en CDE. It can be used in the first part only as screening, or even in full to document the reference in CDE before sending it.
A new button called Send text in conclusion allows you to quickly document the file for the next speaker without having to reopen the previously completed tool.
The tool for negative result letter patients has been extended to other cases such as documenting a positive result, a pending result or contact with a proven case of COVID-19.
Addition of several direct links to the MSSS's request for COVID screening as well as to our laboratory and imaging requests using the tools, including that of consultation in the CDE clinic (long version).
Please feel free to share your comments and suggestions with us via chat. We hope these changes make your work more efficient!