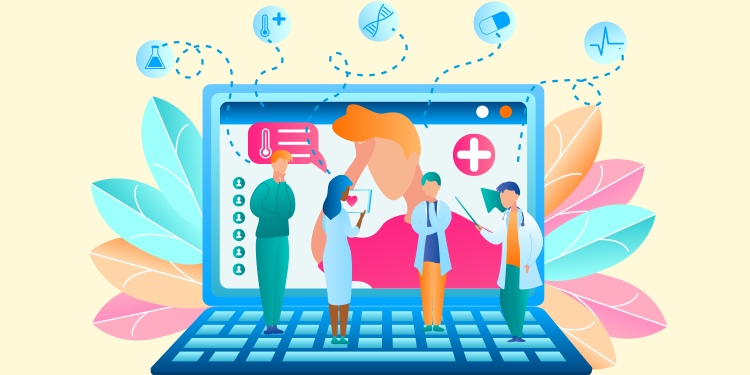 When configured, your EMR and the Rendez-vous santé Québec (RVSQ) have two-way communication. Your appointments saved from Omnimed's Web version are transferred to RVSQ if it applies. That way, patients are allowed to register themselves online at RVSQ when public time slots are open.
Open time slot with RVSQ
To open time slots at RVSQ for a general practitioner, a physician resident, or a specialized nurse practitioner (IPS), you must use the Appointments module in Omnimed.
Here are the steps to follow to open a time slot:
Click on the view Manage schedule.
Click on the icon Add a time slot.
Check or uncheck the checkbox Synchronize this time slot to RVSQ if you want to.
ℹ️ Psst! If the checkbox Synchronize this time slot to RVSQ is checked automatically and you do not want it to be checked by default, ask your manager to join our customer service team to update this preference. This personalization is by institution, and cannot be applied per user.
Synchronizing time slots with RVSQ implies compliance with the following constraints, imposed by RVSQ:
The time slot cannot be in the past.
The time slot cannot extend on several days.
The time slot cannot overlap an existing time slot at RVSQ.
The time slot interval must be a multiple of 5.
⚠️ You can only choose to synchronize time slots or not when you open them. This action can't be reverted: this status can't be changed when you book appointments. Thus, you can cancel a time slot and open it again with the other status if necessary.
4. Edit the title, the date, and the interval as desired.
5. Select one or many consultation reasons. This list is defined by RVSQ. Please take note this field is optional. The following options can be selected: minor emergency, priority consultation, periodic or preventive follow-up, regular follow-up, pregnancy follow-up, follow-up of a child aged 0 to 5 years, and patient redirection.
6. Make the time slot public (if it applies).
7. Select the display type.
You can select the following choices:
Family medicine (FM) - When they are public, these time slots are available for patients treated in family medicine by the selected doctor.
Family medicine group (FMG) - When they are public, these time slots are available for patients treated in the family medicine group.
Nearby patient (GEN) - When they are public, these time slots are opened to patients living nearby the clinic. When signing up at RVSQ as a patient, there are asked to specify a radius (in kilometers) they are ready to travel to get an appointment. The patients who see these availabilities depend on the travel radius they have specified.
8. Select the date and time you want to open the time slot to the public at RVSQ.
9. Click on Add.
10. Repeat as much as necessary.

Consult the synchronized time slots at RVSQ
There are acronyms in the view Display schedule details at the right of the agenda. Here is the legend:
A grey RVSQ icon means the time slot is not public at RVSQ, meaning you are the only one allowed to book appointments. Mouse over the icon to discover when it will become public.
A blue RVSQ icon specifies the time slot is public at RVSQ. That way, patients with corresponding criteria can book an appointment on the public platform.
A cloud icon will appear next to the appointment if it was booked by a patient from RVSQ and the note written by the patient at RVSQ is available in Omnimed. The note written by the patient at RVSQ is available in the appointment module and allows you to have more details in the schedule in Omnimed about the patient's needs so you don't have to consult it at RVSQ.

This link between the two platforms allows your team to open time slots and to make them public five days later at RVSQ, for example, which allows you to book appointments and have priority on them. Afterward, the last availability will be opened at RVSQ at the specified date. That way, maybe your last availability will be booked by a patient on that public platform.
Book an appointment
The time slots are now open and it's time to book appointments!
Here are the steps to follow to book an appointment:
Select the view Display schedule details.
Click on the desired availability. You'll see that the option for synchronization can't be checked. You can't change that status when you want to book an appointment.
Add a patient. Edit the desired field (if it applies).
You'll have a section about the appointment confirmation. Three options are available: phone, text message, or email. This field is mandatory. That way, your patients with synchronized appointments (public or private) will receive a reminder considering the selected option.
⚠️ To select an option, the information must be saved in the patient's Administrative center. For example, if the confirmation must be sent by email, it must be saved in the contact information. If it's not the case, click on the patient icon next to the complete name to add or edit the contact information. If there are a few phone numbers saved, then the one who'll show up first will be the newest one.
5. Select the desired language. For now, the two official languages of Canada can be selected (French or English).
6. Click on Add.
Following constraints must be respected to ensure the synchronization of appointments at RVSQ:
The event must be assigned to a patient who has an Omnimed file or to a temporary file.
The appointment must contain only one patient.
We invite you to add the patient's complete name, birthdate, phone number, and gender when you book an appointment. Patients with unknown gender will automatically be saved as females because this information is mandatory to RVSQ.
The date of the appointment can't be in the past. Thus, if one of your healthcare professionals has received an additional patient in the middle of the afternoon, you won't be able to synchronize that specific appointment. RVSQ doesn't accept past data.
It's possible to add appointments without time slots. You can choose to synchronize the event or not.
Opening an availability (Reserve an appointment window) to book an appointment is blocked for the next five minutes at RVSQ to allow you to save it. After this delay, the appointment is available again at RVSQ (if it applies) and a patient could book an appointment on his side.
Your opened calendars are synchronized every 60 seconds with RVSQ. You don't have to refresh the page to see new appointments from RVSQ or the ones saved by your teammates. If a patient is booking an appointment at RVSQ and you click on the availability at the same moment, a message explaining the availability is booked at RVSQ will be displayed in a yellow frame. The same scenario applies if one of your teammates is booking an appointment in Omnimed: you won't be able to access the availability because it's locked. Your closed calendars are synchronized every hour with RVSQ. If an appointment is booked at RVSQ and the calendar of the physician is closed in your Omnimed's session, then you'll only see the appointment in the patient's administrative center minutes, perhaps an hour after it was booked at RVSQ.
Cancel an appointment
The steps to cancel an appointment are the same as usual: click on an appointment and then on the X icon in the grey bubble.
A single appointment that is not associated with a time slot (called an event) will be deleted from Omnimed and RVSQ.
An appointment associated with a time slot will be canceled leaving the availability open. That way, if a patient is free for this appointment you'll be allowed to save a new one. If the availability is public at RVSQ, then a patient will also be able to book the availability on this platform. You can also decide to delete the availability (public or private). That way, the availability will be deleted from the time slot.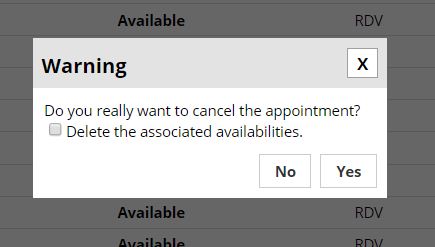 Please note that canceling a time slot transfers the associated appointments to the Reassign appointments view. This view does not exist at RVSQ. By the time the transfer is completed, appointments made from the public platform remain in place, at the time initially selected, until they are reassigned in Omnimed.
⚠️ Canceling time slots in the past doesn't delete them at RVSQ. Indeed, time slots synchronization with RVSQ is only effective for future availabilities, not past ones. For example, if it's Wednesday and you cancel the previous Monday time slot it won't be updated at RVSQ.
Learn more
Here are the important highlights:
If a patient registers himself online at RVSQ and he doesn't have a record in Omnimed, a record is automatically created in Omnimed.
We suggest that you use only one platform to manage all of your appointments in order to centralize your tasks. We, therefore, do not advise you to open some time slots or book appointments on Rendez-vous santé Québec's website and some others in Omnimed, even if it's two-way communication. We do not want you to have headaches. In fact, if you book appointments from RVSQ it can lead to file duplicates. In that case, patient fusion is necessary to centralize all clinical data into a single record.
If communication between the two platforms is not possible due to maintenance at RVSQ and booking appointments is allowed, a message explaining this will be displayed when you click on availability. You'll still be able to book an appointment. If an appointment is booked at RVSQ during this period for a given date and the same action is done in Omnimed for the same appointment, then the one saved in Omnimed will be found in the view Reassign appointments. In fact, appointments booked in RVSQ predominate.