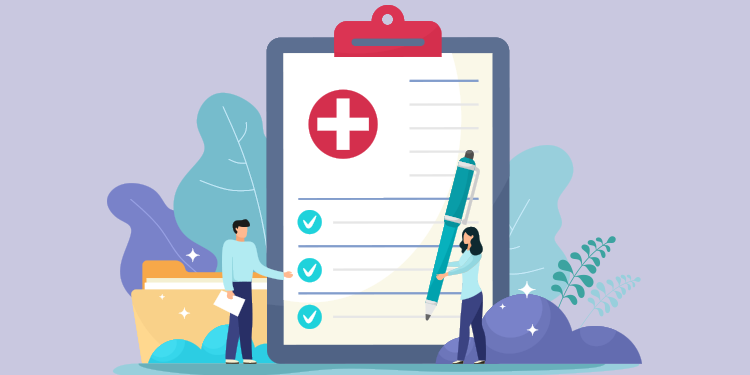 The Clinical note content logs are all the clinical actions taken by a professional in a patient's file as the clinical note is written. You will find the Clinical note content at the bottom of the clinical note. It only appears when a clinical activity is added to the note.
Activities associated with a clinical note
Below is a list of clinical activities that can be displayed in the Clinical note content. These activities are always presented in the following display order (this also corresponds to the default order of the summary boxes), then sorted by last date and time of saving if there are several elements for the same activity:
Tasks (checkmark icon in a checkbox)
Clinical tools (icon representing a clinical tool)
Vital signs (stethoscope icon)
Life habits (icon representing a man running)
Programs (graphic icon)
Program visit (suitcase icon)
Allergies (flower icon)
Prescription medication (icon representing the medication)
Medication listing (medication icon)
Results (microscope icon)
Requests (microscope icon)
Immunization and vaccines (syringe icon)
Problems (plaster icon)
Past medical history (folder icon)
Family history (DNA icon)
File (paper clip icon)
Transmission by email (envelope icon)
Transmission by fax (fax icon)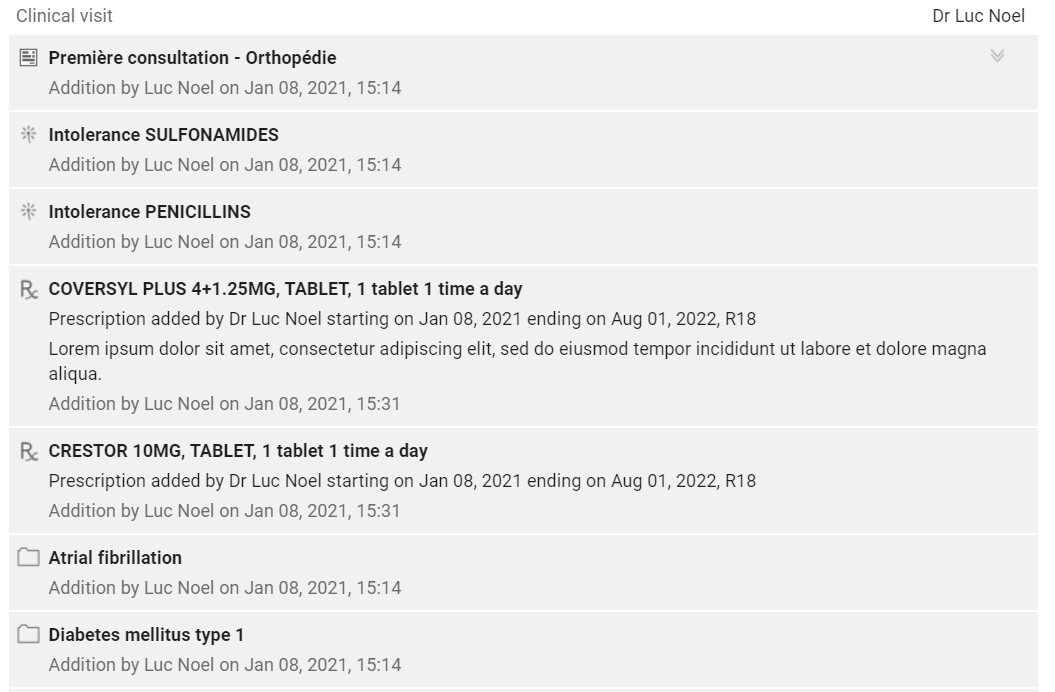 In addition to actions performed directly in the patient record, actions performed on a clinical activity from the Results review of the Task review are also added to the Clinical note content.
Display of actions related to a clinical note
Here are some specifications concerning actions performed on a clinical activity:
If an action is performed on clinical activity and there is a current clinical note, it will be added at the bottom of that note.
If an action is performed on clinical activity and there are no current notes in the patient record, the action will create a new clinical note in the Clinical notes list with the consultation reason No reason entered and for the effective date the current date. It is possible to find this note via the "eye" filter in the list of clinical notes.
If more than one action is performed on the same elements of an activity, only the last action performed on the activity will appear in the Clinical note content. All actions performed on clinical activities associated with a note are recorded in the Clinical note history section.
Related articles
Filter the record's clinical notes list
Write a clinical note
Understanding the current clinical note
Did this answer your question?