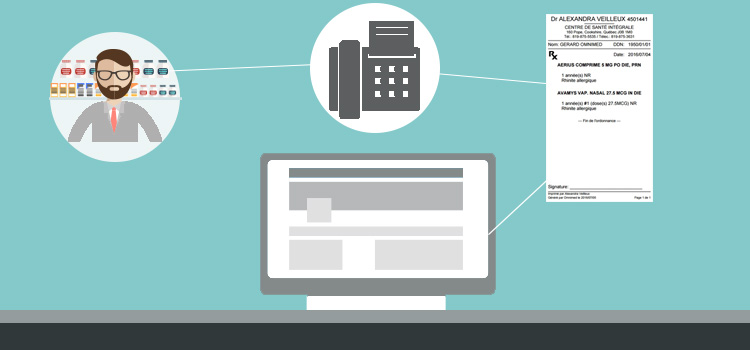 Fax transmission is logged at the bottom of the clinical note. The SRFax review module allows reviewing the status of every fax sent.
Confirm fax delivery from the clinical note
Each fax sent from the patient record creates a log at the bottom of the clinical note in the Clinical note content section entitled "Document transmission (by fax)".
The fax log provides the following information:
Current status: Documents the delivery status, e.g. "in progress", "completed", "pending" or "failed". The status is updated in real-time from the clinical note.
Type of document: Documents the type of document sent, e.g. "clinical note", "clinical tool", "prescription", "SAFIR request".
Receiver: Name and fax number of the receiver.

Managing failed faxes via tasks
Automatic forwarding of failed faxes
A "Failed" status means that all six attempts to send the fax have failed on four retries. The log at the bottom of the note, therefore, shows the actual status of the first sending including the six attempts.
Task generated when automatic fax forwarding fails
When fax remains "Failed" after four retries, a task is automatically created in the patient's record and assigned to the user who initiated the transmission. It should be noted that the task of resending the fax is assigned to the latter rather than to the administrative staff since he is the only one who can use his electronic/scanned signature.
Confirm fax delivery from the Transmissions module
You can also go to the Transmissions module, located in Omnimed's main navigation menu (left menu) in order to have a more global view of the fax transmissions made by your clinic. This module allows you to view the status of all forms of transmission, including faxes, stop transmission, print the transmitted document and resend if necessary.
Refer to the article Consult the transmissions status (fax, email and SMS) and resend a document for more information.