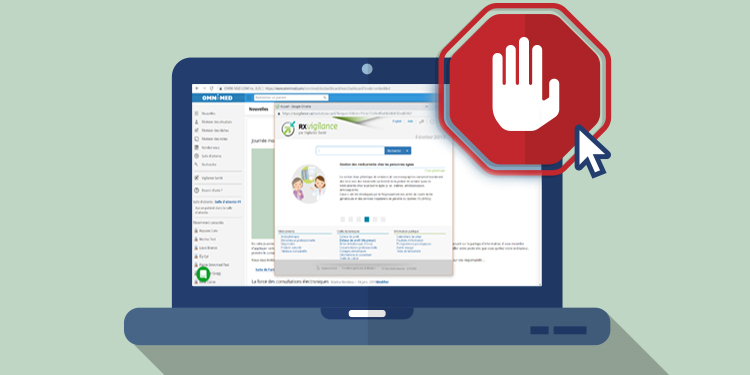 With the high presence of Internet advertising, it is possible that you have downloaded an ad blocker on your computer. It may also be your IT responsible who did it for you and you are not aware of this extension that is configured in your Web browser.
To avoid seeing ads that are not of interest to you, that are too numerous, or to prevent pop-ups from appearing at an inappropriate time, blocking advertising is very useful.
⚠️ However, be aware that there is no advertising in Omnimed and that your ad blocker could interfere with the functioning of the electronic medical record (EMR) by blocking access to certain windows or modules of the application. We invite you to disable it for the Omnimed site to avoid compatibility issues and to enjoy 100% of what is offered in Omnimed.
What does my ad blocker prevent me from seeing in Omnimed?
Anything that appears in an additional window or menu superimposed on the existing page in Omnimed could be blocked by an ad blocker. Here are some examples:
Rx Vigilance
Administrative center
Medications summary box
Print preview window
Fax transmission window
How can I disable my ad blocker for Omnimed only?
It is important to understand that if you disable your ad blocker in Omnimed, it will remain active on the other pages that you browse in Google Chrome. You thus preserve the advantages of this extension which serves mainly to block publicity.
The adblocker icon appears in your browser's address bar each time you try to open a window that is blocked by the extension. When you see this icon, here are the steps to follow:
Click on the icon.

Check the box Always show pop-ups from https://www.omnimed.com.

Reopen the module that was blocked by the ad blocker.