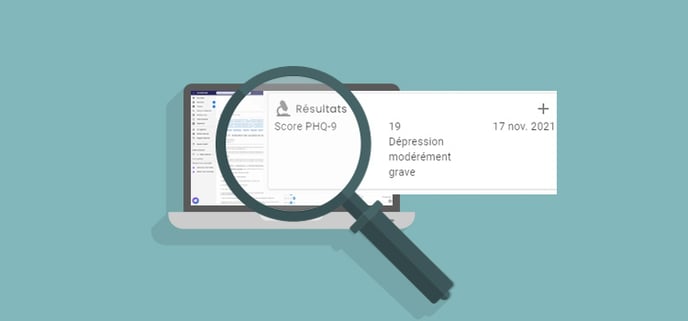 In the patient record, you can find many screening, evaluation and monitoring tools, some of which contain a calculation. These scores allow you to assess your patient's condition and monitor their progress.
For a better follow-up over time of your patient, you can consult the results of certain clinical tools in the Results summary box of the patient's record. Thanks to their integration into this module, you will be able to have an overview of the evolution of the patient's score by consulting the view by graph or by grid. The result can also be highlighted by its display in the summary of the patient's record.
This type of display is possible for the following tools:
CHADS2 and CHA2DS2-VASc
COPD Assessment Test (CAT)
Creatinine clearance estimate
Epworth Sleepiness Scale
Folstein's Mini Mental State Examination (MMSE)
Framingham
GAD-7
HAQ - Health assessment questionnaire( Functional disability index)
PHQ-9
ℹ️ Please note
Only results of the tools mentioned above can be added in the patient record's Results summary box. You can send us your suggestions by chat if you think that other tools' result should be added.
This feature has been released mi-November, therefore previous scores won't be displayed in the Results section. The tool must be completed again if you want to result to be displayed.
These types of results do not appear in the summary by default. You can add them to the summary if desired.
The value of normality is automatically set to "normal" (N) for all calculation results coming from a clinical tool for technical reasons.
If a clinical tool is modified, the result related to it will be updated in the Results summary box as well.
The date of the result matches the effective date of the clinical tool.
The result created is archived automatically.