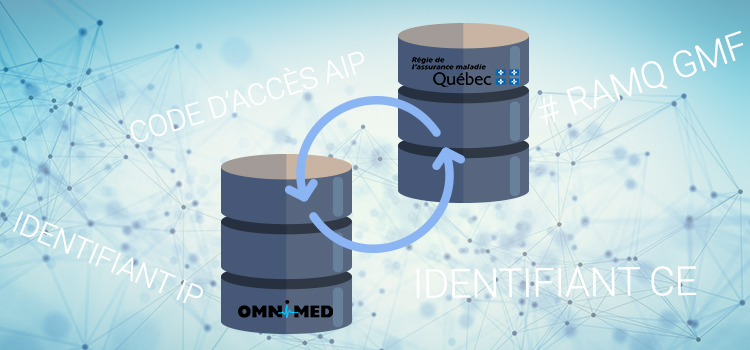 A configuration is required so that registrations of the Régie de l'assurance maladie du Québec (RAMQ) for patients in your institution are imported and displayed in your electronic medical record (EMR). This configuration is usually done during the initial deployment phase of your clinic with Omnimed. It can, however, be adjusted along the way if changes occur.
Items to configure
Full name of the establishment.
FMG reference number (1XXX, if applicable).
AIP Access Code- This value is unique for each EMR or appointment partner.

To obtain an AIP code, form 4058 (French only) must be completed. Ask for two identifiers for the AIP code. If the first one does not work, we have a second identifier in our possession to keep the synchronization working.

AIP code password.
RAMQ Number FMG - Also known as the place of follow-up or locality, this is the establishment number for billing (usually 5XXXX or 6XXXX).
CE or IP identifier- CE identifier is intended for administrative staff and the IP code is its alternative for solo doctors.
Full name of the owner of the CE identifier.
CE identifier password - This password can be reset by its owner on the RAMQ website as soon as the configuration is complete.
Importation type (FMG or non-FMG) - One type of importation per clinic.
Good to know
It is possible to do one type of import by institution, either FMG or non-FMG.
The RAMQ import is performed every night when we have the rights (valid access codes).
If the owner of the CE identifier leaves the clinic, you must send us the new authorized CE identifier for the importation of the registrations of all the doctors of the clinic, otherwise, we will no longer have the authorization to receive updates from RAMQ.