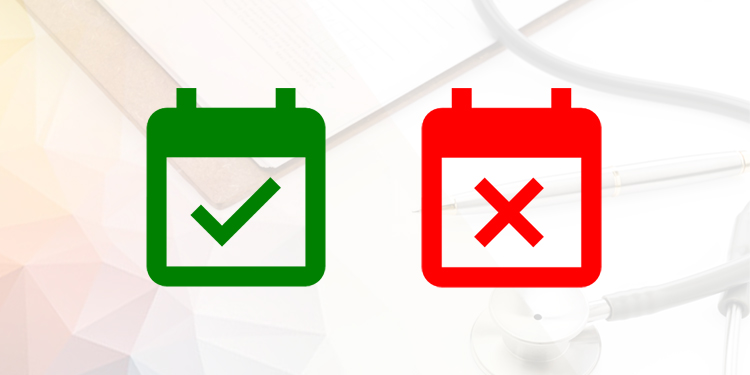 It is possible to add an appointment status (presence or absence). This addition allows having this information in hand for statistical or follow-up purposes.
Indicate the presence or absence
There are two ways to confirm attendance:
Adding a patient to a waiting room automatically registers the patient as present. In the case where the patient is not added to a waiting room, the attendance will remain unknown.
The attendance can also be modified in the appointment details:
The button with a calendar with a check mark indicates the patient showed up (becomes green when selected).
The button with a calendar with an X indicates the patient didn't show up (becomes red when selected).
ℹ️ If the wrong button is selected, click on the other icon to change it. If you want to unselect the selected icon, click on it again.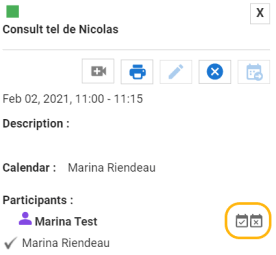 Consult the attendance
Confirmation of attendance at an appointment is displayed in two places:
In the view Display schedule details in the Appointment module.
In the Appointments section of the Administrative center. Only the no-show status is displayed in the Administrative center to offer you a clean page.

If there are two or more patients in an appointment, you can confirm their presence separately. The presence or absence icon is only displayed in the Display schedule details view if the confirmation for these patients is the same (both present or absent). If they differ, then no icon is displayed so as not to mislead you.
Synchronization to RVSQ
The attendance is synchronized with Rendez-vous Santé Québec (RVSQ) if your set up is active. If your RVSQ icon is green, the information will be sent to RVSQ.