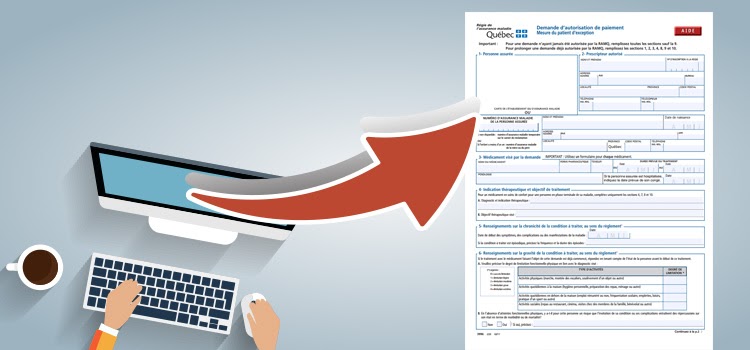 "The exception drug status allows any individual to obtain coverage of certain drugs when used following the INESSS payment indications and that a payment authorization form if filled." (Free translation - Régie de l'assurance maladie du Québec).
Online services
To proceed to the request, the RAMQ allows you to use its online service (please follow the link above and click on Accéder in the Services en ligne section on the right). For none-codified drugs, we highly recommend you to use this service. However, if you're not using the online service, you can find all the necessary forms on their website.
Forms
If you do not use the online service, you can find all the required forms on the RAMQ website.
To help you with your search and to speed up the process, we've included a direct link to these forms directly in our prescriber. Then, when making a prescription order, you can access the authorization request form on RAMQ website (editable PDFs).
⚠️
Please note that this process does not allow the electronic transmission of forms through the RAMQ online service. The link only leads to the editable PDF and not to the online services of the RAMQ.
Since these forms are on the RAMQ website, no information can be pre-filled.
For codified exception drugs, when an exceptional medication code doesn't fit the clinical situation, the prescriber can click on the icon to open the generic authorization request form.
For none-codified exception drugs, the prescriber can click on the icon to be directed to RAMQ authorization form linked to this particular drug.
For drugs that are not covered by RAMQ and don't apply for Exception Drug Status, the prescribed who wishes to make a request to the RAMQ for an exception patient measure can click on the icon to be directed to the generic a authorization form.
Access the payment request form
At the bottom of the prescription form, click directly on the form icon beside the exceptional medication code in order to open the form in a pop-up window.

ℹ️ To learn more about how to fill out the form and submit it, we invite you to visit the RAMQ website.
Attach the completed form to the patient's file
To keep track of the form you've filled, we invite you to save a copy of the form on your computer and add it to the current clinical note in the patient record.
Once the form is completed, create a PDF from the printing window.
Add the form to the clinical note to keep track of it in the patient record.
Related links
Table of contents of the authorization form (French only)
Exception patient (French only)