The year 2020 has allowed us to rediscover several facets of daily life from different angles than those we usually know. Our habits have changed and had to be adapted to the reality of a global pandemic, something for which no one was really prepared. Looking back, we at Omnimed are proud of what we have accomplished with you for the good of the population in 2020.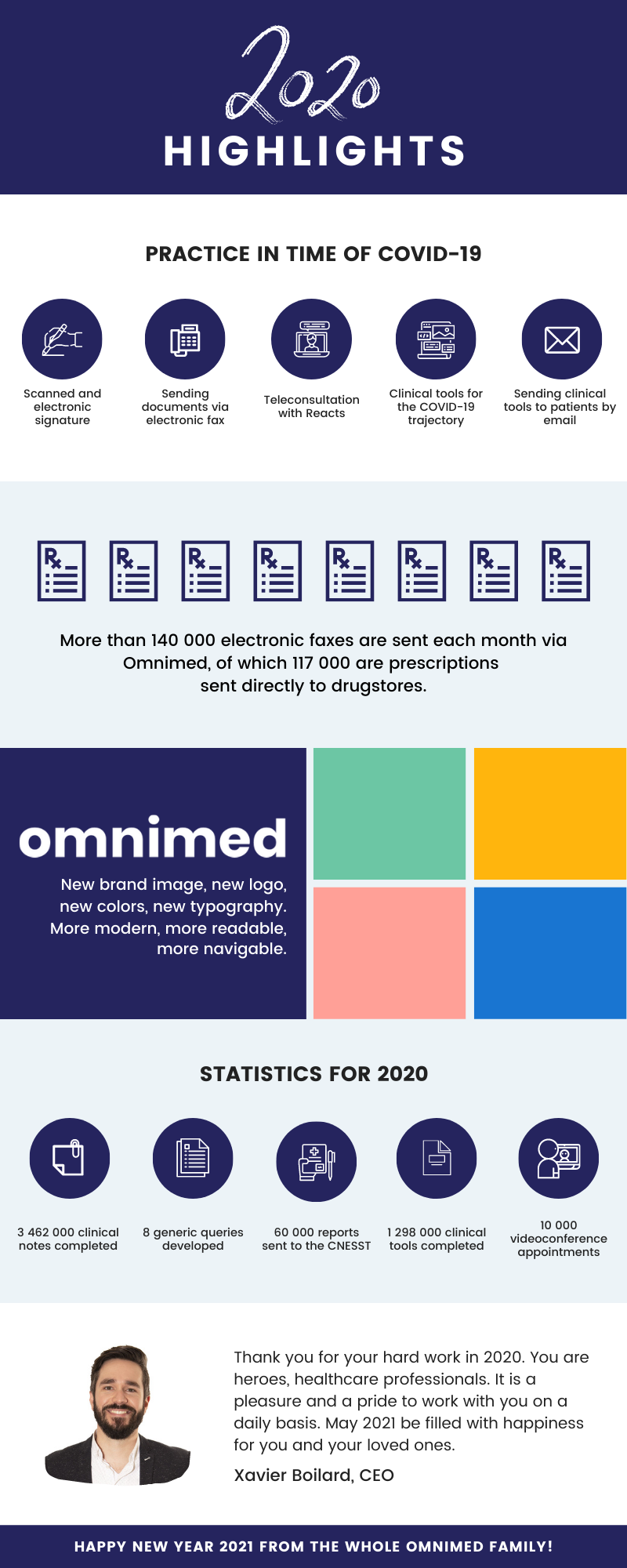 COVID-19 requires, we adapt
Our infrastructure is solidifying and Omnimed's image is renewed
With the increasing use of the Internet with telecommuting, distance schooling, etc., several platforms all over the world have suffered service disruptions, and Omnimed has not been immune. These anxiety-provoking periods for you and for us have led our teams to carry out important work on the infrastructure that supports Omnimed's operations, and several of our technologies have been reviewed and improved.
As an example, since the work was completed, updating the action logs of a note with four clinical tools takes 3.69 seconds, while before it took 16.19 seconds.
So, we took the opportunity to push these improvements a little further and with the help of UX designers, we saw fit to renew our appearance by making our platform more modern, more readable, and more navigable so that its use is optimized.
This breath of fresh air has brought several visual changes, particularly in terms of typography, colors, logo, and navigation in Omnimed and on our other platforms.
Other bulk news
In addition to the infrastructure and COVID-19 work that took a lot of our time (and with good reason!), here are some other non-exhaustive additions that were made during the year to improve your use of the EMR:
And much more!
✨ Thank you for being there, for helping us improve the Omnimed electronic medical record and for participating in improving health care in Quebec. Happy New Year 2021 to all!